What Surprises are Hiding in Your Career Assessment?
Sometimes there are hidden inspirations from our past tucked inside a simple career assessment.
Want to try a fun and interesting experiment? Take a free strengths and interests assessment, and see what career recommendations come up.
While you probably won't be surprised at all by the majority of the results you'll get — in fact, it's highly likely that you are already either in, or have worked in, many of the jobs suggested — you might come upon a few outliers that really make you stop and think.
And sometimes, that moment of "Hmmm…." will connect you to a very deep part of yourself.
As part of my training to become a career and personal transitions coach, I took a range of career assessments designed to tell me all about my personality, my preferred ways of moving through the world, my ideal work environment, my top strengths, and my signature skills.
I took free versions of many of the tests, as well as the extended versions offered through university career services and other trainings that I attended.
I was pleased to note that the free and easy-to-use version of a strengths and skills assessment offered by O*Net came up with the same final results as the official, much longer "Strong Interests Inventory" I took through the career services of the university. It's always a boon when you can recommend a free assessment and feel that it can be both valid (it tests what it's supposed to test!) and reliable (you'll get the same result if you take it again at a later date).
Based on the Holland Codes, an assessment of "vocational personality" by psychologist John L. Holland, these strengths assessments rate you in six areas: Realistic (Doers), Investigative (Thinkers), Artistic (Creators), Social (Helpers), Enterprising (Persuaders), and Conventional (Organizers). Here's a quick breakdown of what these look like in general: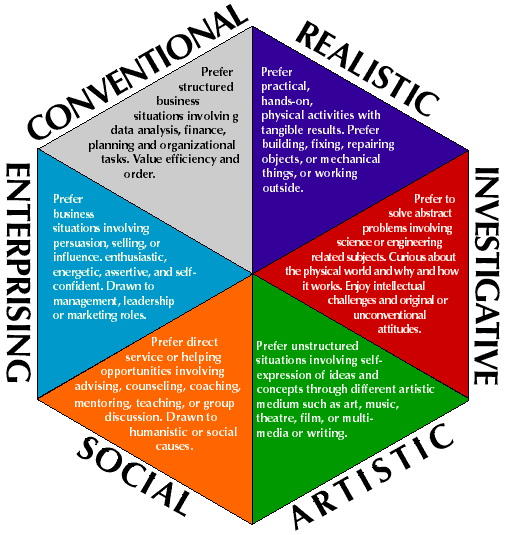 The bottom line: You're more likely to be content and fulfilled in a job and work environment that closely match your combination of preferences.
But trying this experiment is not just about finding out what your preferences are. After all, you probably won't be all that surprised. The real fun and exploration starts after you get your codes.
Once you've got your codes, the O*Net system will suggest a list of potential jobs that could be well suited to you and your style. And you can drill down even further to investigate the skills, tasks, work environment and training for any of these positions.
Any surprises in there?
My list was full of things I have done, or that I know I'd be good at: teacher, trainer, coach, writer, editor, etc.
But remember that I said the results from the extended paid test were the same as the free one? They were, with one big exception. In my longer form assessment, there was one outlier. And it was at the very top of the list:
"Librarian."
Librarian? I'd honestly never thought about being a librarian. But as I thought further and explored the tasks, skills and work environment of being a librarian, I realized — of course! Not only do I love libraries, with their peaceful atmosphere full of books and knowledge … but I love to research and share information. I love to help people get access to resources that will enrich their lives in some way. And I love the unlimited potential that libraries represent. (In fact, "love" is probably too weak a word. "Magnificent obsession" might be better.)
What else resonated in me when I thought of my "librarian" result?
The more I thought about it, the more I connected with my little girl self …the one who always loved books with a passion, but who truly became a reader thanks to Mary Knowles, the children's librarian in my childhood neighborhood of Plymouth Meeting, PA.
My brother and I grew up surrounded by books and in a home that loved reading. I had learned to read in kindergarten –probably because my parents read to us continually, and I also watched my older brother learn to read. As a result, my reading level was well above my grade level. Nevertheless, I continued to check out early reading books from the children's section, because that was the norm for kids my age.
Clearly, my librarian had a better idea.
It was Mrs. Knowles who first put the perfect chapter book into my hands, well before even I knew that I could read it. But she knew. I vividly remember looking at it and thinking, "I can't read this."
Guess who was right?
And from that moment on, I was transfixed and transported — not just by the book itself, but by my own power in being able to read it by myself.
Mrs. Knowles had the gift of seeing possibility and potential – and connecting people to it. She saw my interest, she saw what books might be the perfect "fit" ... and most of all she saw not just my current reading level, but where I could go. It was a co-creation: she handed me the book that opened that door, and I stepped through it — into a lifetime of reading.
This is what it truly means to be a coach: to co-create the opportunities and awarenesses that connect people to their highest potential. To do this in my life means that yes, I proudly count "librarian" as part of what I do and who I am.
What inspirations from your past will you find in your career exploration? And what inspirations for your future? Check out the free O*Net Strengths Assessment, and let me know what you discover (and uncover) within yourself!
Ruth Kunstadter, MA, BCC works with career changers and other individuals who want to connect to their purpose and potential, and to create more self-care, balance, and fulfillment in their personal and professional lives. Find out more about creating your best "what's next" at www.newpathwayscoaching.com or by emailing Ruth at NewPathwaysCoach@gmail.com.
#careerassessment #careerdevelopment #libraries #librarian #StrongInterestAssessment #ONet #strengthsassessment #interestassessment